Agnese (33).
Agnese is interested in astronomy and she likes to travel. Both these passions have intertwined in an unexpected way – she is organising trips to places where total Solar eclipses happen. And she manages to do it so well that she could do it professionally. When you go on a trip with Agnese you can be sure that there will be no unnecessary expenses, she will always find a bargain and will get a discount on top of that.
Agnese is energetic and focused, if she has decided something, she will persistently proceed to her aim. She like to be in control of a situation, for example, even being in a distant part of the world she will have checked beforehand where to turn in the next junction. However, it is not possible to predict everything, so she also goes with a spontaneous improvisation. She doesn't smoke and doesn't enjoy alcohol too much. She also likes to sing, dance, visit friends and hitchhike. Her profession is related to information technologies but astronomy is her hobby and she also manages youth astronomy club. When you'll sit beside Agnese on a cliff in some corner of the world on a starry night during some of the next trips, ask her about the visible constellations and she will be able to tell you a lot.
Atis Edvards (14).
Atis' full name is Atis Edvards Little-tree, my apologies, Little-birch-tree (Bērziņš). He has been born in October, now he is well going 15. He is studying at Riga Secondary School No 6, on September 1 he will start in grade 8. He plays a trombone in the orchestra, sitting at the back, so that nobody sees how wrong he plays a tub. He has an interesting and unconventional sense of humor, but not everyone always understands it. Usually he is sitting in a free time because he likes to run and sit. He has blue eyes, big legs and tongue. He likes nature, animals and unexpected situations. Likes to eat all kinds of junk food, especially green potatoes. It often jumps over the trampoline, because then he gazes at everyone from above. If he tries very hard, he can make at least seven push-ups, but it's changing! He sometimes also often changes his mood. Atis is a thoughtful, interesting and cool person with his artistic vision of life.
Ausma (60).
Ausma likes traveling – not to check-in the places where she have been, but to enjoy places, things and events. She easily fits into different companies of people – endures also some starveling persons and demagogues
Ausma is interested in stars – the close and the distant ones. She is sewing, knitting and crocheting in leisure time. She's usually looking for rational solutions to all problems.
Austris (67).
Austris is a passionate driver, 42 years have been spent at the wheel, he can drive all day long without tiredness. He has traveled all around the world – driven through the Norwegian mountains, seen the Mexican Pyramids and walked along the Cape Verde expanses.
Austris has a wide range of interests, but his greatest passion is writing textbooks. Austris is the author of many physics teaching books, an experimenter with a curious sparkle. Patient and polite, always ready to help. Austris is very committed and responsible, likes to do everything in time and with great excitement, he likes planning everything up to the smallest. Austris loves challenges. He never argues, but always remains with his point of view, though he is always ready to express his viewpoint. A person you can always count on.
Dace (61).
Dace travels, loves nature and discoveries. She's attracted by orienteering, hiking, mountain climbing and cycling. In winter she goes skiing, in summer boating. Gets emotional recharge by staring at fire. She is a pleasant travel mate, helpful, involved, interesting with great sense of humour. In cases of emergency she has a quick reaction and problem solving skills.
Daumants (30).
Daumants is an educated geographer, still young, energetic and very inquisitive. Traveling the world is one of his life's purposes. He is clever and interesting partner in many kinds of conversation because he loves to share his knowledge and join in a discussion.
Daumants has quite a big travel experience since he's doing it non-stop both traveling in small groups and alone. The first experience of travel he gained as child already while planning and traveling with his parents through Europe. Also Daumants is a good car driver and guide, he has guided small tourist groups. He quickly reacts to a problem and quickly decides in emergency situations.
Daumant's favourite pastime is exploration of weather conditions and explaining them to others. His head is always up and his glance directed to the sky. During daytime it is the Sun and clouds, and in the night – stars and Moon that catch his attention.
It is worth to get to know Daumants – he could become a good, honest and interesting friend of yours.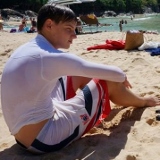 Gleb (17).
Gleb is an interesting teenager, who is really into sports and isn't afraid of difficulties. He loves extreme, risks and adventures. He is faithful and trustworthy friend and an excellent companion. Sometimes he is so fond of his dreams, that forgets about responsibilities. It is likely to change with an experience and age. He likes to meet new people and travel all around the world.Recently he has started to play the guitar and he wants to learn many songs and tunes.
Ilgonis (56).
A star chaser, astrophotography hobbyist, experienced traveler who is eager to leave home for a long and sometimes hard trip to see another Solar eclipse in hope that clouds will not cover the Sun and eclipse will be visible. In addition he will fix all nice views,
places and events on his camera during the trip. He is a good driver on any road, he likes to learn and speak some words in the native language, always appreciates local dishes and even will buy some spices to bring home. He loves to sing songs in a good company and tries to play some music on the harmonica. On a clear night you will find him taking pictures of constellations that are not visible from his home country and he do not care whether the night is chilly. Though he has seen several total eclipses, each of them was unique and he wants to watch them (and take pictures and make video) again and again.
Imants (48).
Quiet and modest person. Traveling for maximum comfort is not a priority for him. He can survive eating nothing but rusks and spend a night under a bridge if necessary. He easily feels fits in the company, but sometimes chooses to be alone. He frequently visits different places, therefore sometimes it seems that he is in several places at the same time. While traveling, and despite other duties, he always will find an opportunity to take an interesting picture. He's often seen writing some notes, sometimes it becomes a public blog post about travel impressions.
He is a patient and durable car driver. But daily you can spot him on a motorcycle or a bicycle or as a pedestrian as well.
Orienteering for him is a thing that he is familiar with. He likes to be outdoors, and mountains which you won't find in Latvia.
Inese (45).
Inese likes traveling and hiking in mountains, as well as riding a bicycle and taking pictures. She usually seven times measures and cuts once. Inese agrees with the expression: everything is possible – the impossible takes a bit more time. She is interested in astronomy and technologies and is reading a lot in leisure time.
Jānis (24).
Janis does not strive to be the life of the party, in company he can be reserved and quiet, but can be open and show his sense of humour, although with a healthy dose of sarcasm. He is helpful and responsible team mate – will not refuse assignments and will carry them out to the best of his abilities. If Janis is moved in a certain direction, than it is hard to stop him. The most important things is to be sure that the direction is correct and the initial impulse adequately strong. In his day to day life he spends an considerable amount of time using his computer, he i san avid fan of fantasy literature.
This year Janis graduated from University of Latvia. This trip is intermediary between his life as a student and employee. Janis is passionate in conversation when the subject interests him.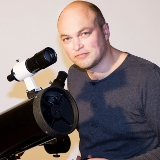 Juris (38).
Juris is a man in nice years, whose main job for already eight years has been a politician. He also has fantastic good communication skills, which greatly helps not only at work, but also in private life, and also he is an ideal travel companion. This has been tested in practice!
Juris' hobby is (who would have thought it !?) – astronomy. Not sure why Juris is interested in such distant objects that have little influence on human lives but that's how it is. Together with Juris will travel his wife Madara, they both are raising two daughters who will come along when they are slightly less young.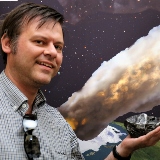 Kārlis (44).
Kārlis – "work hard, sleep little". He enjoys dancing, and the view is not bad. He is a simple inquisitive, helpful and resourceful person. He taught to knit a knot in childhood, thus becoming a family leader. He always wants it to be better for everyone. He has some knowledge about space, especially meteorites, and his pocket. In leisure, he enjoys baking on the grill or sleeping, but lately there is no free time for him at all, so sleeping can be skipped. He is realistic and in "situations" is reflected in the positive way. He has interest in nowadays new technologies – phones, computers, gee-pee-eses. He has opened a wonderful Mini Meteorite Museum in Riga, where many interesting events and things are happening, for example, enjoying a real night at the museum.
Kristaps (35).
Kristaps does not talk much, but when he but when he does it's to the point, and in general he always has the right word for the occasion. f he knows anything interesting, useful or topical, he will share his knowledge with others. If he's carried away with some bigger idea he will drag his friends in to pull it off together even if it's gonna take a long and winding road and some external conditions will try to delay it. He has spent many hours on a bicycle – likes pedaling out and about. But is also able to not cycle. He will take a picture or put together a video with not only the most important things, but will also have noticed some interesting detail. "Gotta do something," he will say and urge friends to do something as well.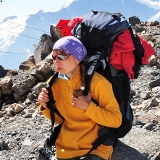 Kristīne (41).
Kristīne likes to learn and experience new things. Exactly this trip finally urged her to learn to drive a car and got driver's license last year. And Solar eclipse trip by cars is rather new experience for person who loves to travel with a backpack.
Kristīne may seem to be quiet and serious person at the first glance, but it is only until you get to know her better. She likes traveling, outdoor activities, running, mountaineering and of course Solar eclipses. Kristine likes to read and she prefers smart science fiction and fantasy genre. She is astronomy's enthusiast and works to popularize astronomy like guiding public observations with telescope in University of Latvia.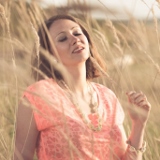 Laura (29).
Laura is a person on who you can count on. She is sincere and very helpful. A passionate traveler, that fully math up to Laura's active nature. Though extreme things are not so close to Laura, checking out new places and things is a challenge of her life. She is a healthy lifestyle enthusiast who likes to hike and draw strength out of nature.
Loreta (53).
Loreta has been travelling since childhood, when together with her mum, a geography teacher, visited different places. During school she was fascinated by parachuting, she even got the qualification of a sports master. While studying at the Civil Aviation Institute, she participated in compulsory practice throughout the territory of the USSR.
Loreta is persistent, very capable, she is not afraid to assume various responsibilities and, for the most part, does them well.
Loreta has taught mathematics, informatics and physics in high school, but she has not stopped at it. Thus she is now studying IT.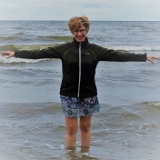 Madara (38).
Madara is like a delicate jeweler's hammer that always hits the right point, precisely and sharply. An excellent observer and a witty character and personality. If you do not know what to do or decide on, turn to Madara and you will receive the best possible advice and situation assessment from a completely different perspective. Madara should have started a real-life consulting business a long time ago. By the way, the manager's place is still vacant :).
Madara can also make a seemingly ordinary event colorful with her apt and emotional description of the situation. Cannot wait to hear the description of this Madara's trip. She is an epicurean with an exquisite taste who is able to appreciate the nuances of the Berlin Philharmonic, will decipher the wine from a bottle opened the previous day in the restaurant, catch various gastronomic fines and share good recipes.
At times, Madara will heartily huff, but listen to her, because it will definitely be packed with a perfect description of the situation, so to say – spot on. Despite the fact that Madara very accurately assesses the situation and people, she has been able to maintain a certain amount of idealism. A journey is definitely more interesting with Madara than without her.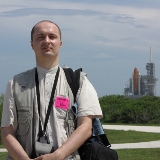 Māris (43).
Astronomy and space exploration is his passion since childhood. Different things had fueled this – movie Hangar-18, Arizona meteor crater photo in old school astronomy book, good old fashioned sci-fi – F. Carsac… But the fact of being an urban inhabitant makes him able to see the dark skies with Milky Way very rarely. He always likes to explore maps (Google maps these days – what a treasure).
He does not like to travel too often, but if there is a travel to somewhere it turns as a quite complex adventure since the aim is usually to catch some additional activities and events in the point of destination. First visit to Barcelona was also an attending of MotoGP race event. Going to London – along with sightseeing, enjoying some concerts of bands, which are almost certainly never coming to Latvia… Going to Kennedy Space center in Florida – trying Indycar and NASCAR ride as well. Western US trip will be no exception.
Niks Jānis (11).
Niks Jānis, oh yes, was born in February, or, in other words, is a 11 year old boy. Following his brother, he entered Riga Secondary School No 6, and on September 1 he will study in grade 5. He likes sports and math, yes. He learns to play a trumpet and is familiar a little bit with piano from outside. He likes to sing, when it's boring – it's singing time, when it isn't boring at all – it's singing time. But sometimes he is a little shy, then – it is not a singing time. All his life he has been associated with sports, as a true old man deserves. He likes to play floorball and football, yes. He always has liked adventures and (pleasant) surprises. Oh, he loves sweets, yes. He is being jovial, hilarious, friendly and curious boy… oh yes!
Niks Tristans (16).
Niks Tristans is an erudite young man and interested in many things, especially science. He has an opinion about everything and is ready to defend it. Shy around strangers but when you get to know him, he is a very interesting conversation partner with a good sense of humor, healthy sarcasm and irony. He is interested in astronomy. This will be his first big trip which he is awaiting with great interest.
Rihards (45).
Books and travel. If only two words would describe him, these would be the words. What has started as reading in childhood, has been transformed to life-style business. Whenever Rihards is not with his family or traveling, you can find him at the back of his bookshop, "Intelektuāla grāmata". If there is a problem – surely someone has already written a book about it, and Rihards will find it for himself or for you.
One of his early travels was hitchhiking to Gibraltar. Since then, many countries have been visited, by car, by train, climbing mountains, visiting gorillas, watching whales. He is also a regular contributor to the School for Young Geographers (Jauno ģeogrāfu skola). If you are not deterred by his loud voice and straightforward way- you will find a person with wide knowledge to have a conversation with.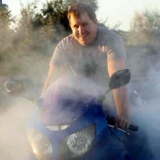 Salvis (34).
Salvis tries all new things with excitement, he likes to challenge not only others, but also himself. He has united his passion – travelling – with his hobby – geocaching. To check out new things, he is not demanding for comfort. Salvis can be sarcastic in a way that is not understandable to everyone, however, after getting to know him better it turns out that it's not as crazy with him as it seemed initially, and he can be a good friend.
Vita (46).
Vita loves flowers very much. She grows them in the beautiful garden of the house and indoors. She loves singing beautifully, dancing and occasionally drawing. Her favorite color is yellow. She can prepare a variety of dishes, potatoes, chops, salads, stews and biscuits and other delicacies. She likes watching a lot of nice movies, except, of course, horror and danger ones. She works in a hospital in Eye Department. She loves to travel to all sorts of interesting places locally and worldwide, romantic and relaxing, with no stress. After each trip, the photos taken are repeatedly viewed and lovely memories returned by her. She is cute, smart, joyful and happy. She has much work at home and at work to do daily. Charming wife for her husband. Loving mother for their sons.